Republicans have spent years ignoring the leftward drift of our officer corps, but we can't ignore it now. The mask is off our military leadership. The very same generals who howled at the idea of deploying American troops to stop an invasion of our southern border sent tens of thousands of soldiers with rifles to Washington purely as a show of force on behalf of the political party they support.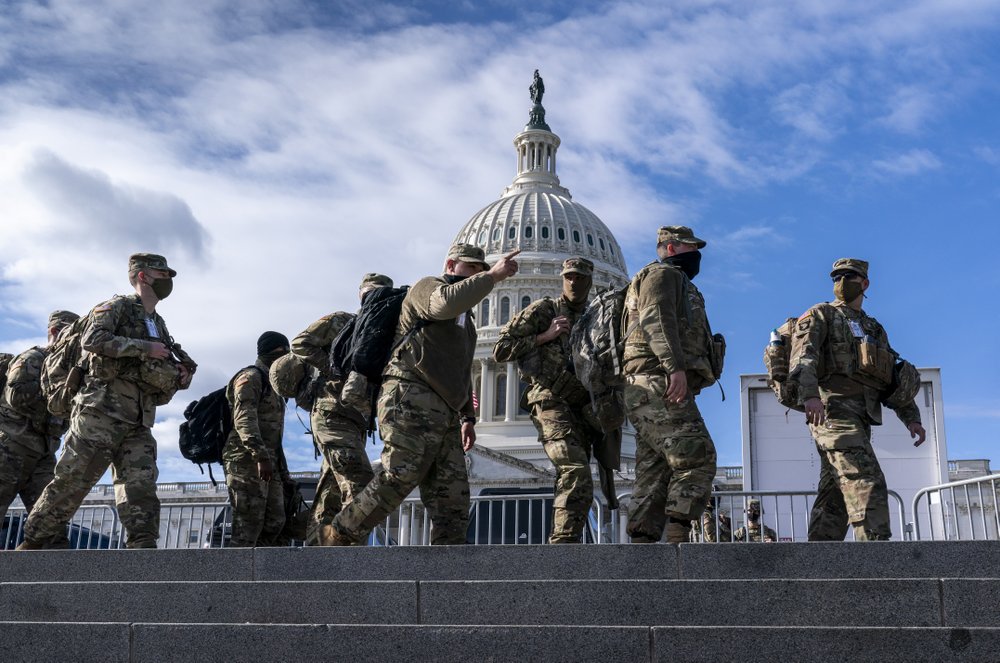 Once they did that, they allowed Democratic politicians to degrade and politicize the military itself.
Democrats in Congress demanded that the troops sent to Washington this week submit to a political purity test — "ideological vetting, as they put it — to make certain that every soldier professed loyalty to the new regime.
Not loyalty to our country, not loyalty to our Constitution, but loyalty to the aims of a specific political party. Nothing like that has ever happened in America and just a few months ago, it would have been unimaginable.
Suddenly it's compulsory.
In the meantime, you've got to wonder what the Guardsmen themselves think of all of this. Serving in the National Guard is not easy work. Guardsmen aren't paid much. Some, you've got to imagine, are doing it for love of country. Now, they've been deployed to their country's own capital city and they've been given orders to shoot their fellow Americans if necessary. That's a lot to ask.
If you wanted to stoke an irreparable civil conflict, you would talk this way and you would keep talking that way. So where's the pushback from our defenders?
"Tucker Carlson Tonight" didn't get any calls Monday from Republican senators begging to come on this show to talk about any of this. The Democratic Party has officially began using the military of the United States as a political weapon. But Republicans in Congress just can't be bothered to notice that.
You'd also think officers at the Pentagon would be outraged by this, but as far as we know, not a single one has resigned in protest of conducting background checks on people because of their race or sex or their political views. I can't say we know entirely why, but some clearly agree with all of this, and they'd like to see it accelerate. 
Unmistakably, the Democratic Party is using these troops to send the rest offs a message about power: "We're in charge now. We run this nation, from Honolulu to our colony in the Caribbean and everywhere in between, very much including where you and your family live. Do not question us men with guns. We control the Pentagon. We control the White House. We control the Oval Office. We control everything now.
And indeed they do.
So, how long will this cycle go on? If you're hoping America will revert to normal on Wednesday afternoon after JB is sworn in as president, you're an eternal optimist. You probably assumed the quarantines and mandatory face diapers were temporary, too.
Something awful has been unleashed in our country. And as it is now going unchecked, it will inevitably lead to more awful things. Every action provokes a reaction. That is both physics and human nature.
There's a glimmer of hope. There's a saying "The Revolution always ends up eating its young". What that means, to me anyway, is that communists, once they succeed in an endeavor, almost always immediately fo after their own ranks first, in order to purge and ensure a 100% cohesion among its ranks. Ruling by fear, it's called. You will not step out of line, or you will be purged.
Of course this isn't good, but it will give us Conservatives a little bit of room to breathe in the meantime. Sure, we will be barraged with now daily new laws and insults against us, and we will daily be told what scum we are. It's back to the obama years. Every day, every single day, we'll get hit over the head with something new that insults us and hurts us.
But it's the useful idiots that the new communist regime will go after first. Then us. Let's find ways to exist in the meantime.